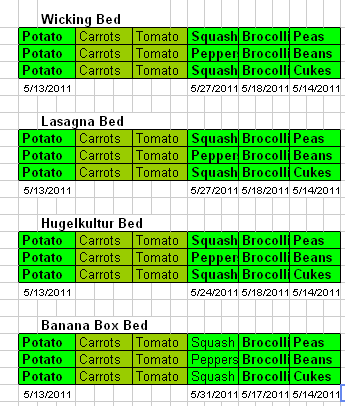 Most of the beds are showing signs of life. I overplanted in a couple of areas, other areas not much is showing up. Broccoli is overplanted in the lasagna bed, 25% germination in the wicking bed – about 50% germination in the hugelkultur bed. The banana box beds are doing just fine, too, at about 80% germination.  Just planted the squash and the peppers in the banana box bed.
Beyond that, spent a total of one hour (making up for yesterday), including weeding around the edges. Found a few "volunteer" potatoes from last year and divided them up between all the beds except the banana boxes, where I have no room.
Still trying to figure out the best way to plant the carrots – the seeds are so tiny, and having typically 30 minutes/day to devote to the gardening as well as the different type of beds (from boxes to mounds) I don't think there's any one way to do it.  I like the broadcast method located at tribe.com: "…When I've done it by hand (and yes, they blow away, it's best to plant around 6 pm, when the wind dies down) I broadcast the seed into a prepared bed about 1′ wide and built up. I spill the seeds from the package into my left hand (I'm right handed), pinch some seeds with my thumb and 1st 3 fingers (right hand) and make a sweeping zig-zag motion, using a sprinkling action with my thumb, across the row moving along the row as I sow. Then, take a rake, points up, and gently move the soil across, covering only slightly. Tamp down with the rake after. Keep watered.
As they grow, and the biggest carrots reach about pinky finger size, I pull them, and we have delish baby carrots. Keep pulling the biggest of them 'til there's enough room for the other's to grow big. Usually, I never have to give my carrot plot a rest from these 'thinnings' and we eat from the same row all summer. …"
The Yardener has a great article about carrots as well, and some good ideas about succession planting.  I'll have to plant succession style (every two weeks) into four beds to compare, though, so I guess one row/each bed/2 weeks. … Time to invoke the Mayan Google calendar.
Any one else have any successful ways of planting carrots?